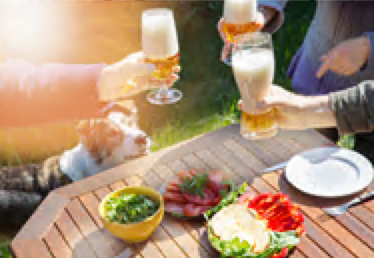 Earlier this month, we showed you some of the top spots to take your pup to breakfast, lunch or dinner. The blog was so popular we decided to stick to a good thing. Below you will find more options to enjoy a summer meal with your entire family and friends by your side.
Yard Bar
Fresh soup, salads and sandwiches await you and yours at Austin's first restaurant, bar, and dog park. It's the perfect place to socialize your dog while you meet and greet new friends with lots in common.
In its park-like setting, you can sit back with a cold one, classic cocktail or enjoy a glass of wine or stay for a while to enjoy a full meal under its shady trees and simple park setting.
Bring Fido to the dog-friendly Yard Bar, Austin's first restaurant, bar, and dog park. Yard
Note from their website: For the safety of your children, our dog park is 21+ ONLY. All dogs entering the park must be spayed or neutered (regardless of age) and current on vaccinations. Minimum age for entry is 4 months old. All are welcome on our patio.
Rudy's Country Store & BBQ
This one-stop-shop can fill your gas tank and your tummy too! After your vehicle is set for the road, set time aside to take your furry friends to the back of the Country Store where you can sit and savor some of the best BBQ in the city. Serving wood-fired, slow-cooked, and dry-rubbed delights, Rudy's complements the typical BBQ menu with a wider selection that includes jalapeno sausage and spicy pork chops, too.
Hopdoddy
This not your typical burger joint! Put this on your spot to stop for some of the most creative cuisine. Touting their ability to 'raise the bar on burgers,' the gang at HopDaddy boast:
We pride ourselves on doing things the right way, not just the easy way. Made by hand, sourced for greatness with the highest-quality consciously grown ingredients, and 'created to be different, you can't find a Hopdoddy (or Doddy Mayo) anywhere else!
Bouldin Creek Cafe
This dog-friendly 'made with love' establishment serves everything vegan and every dish from scratch. In addition to their delicious dishes for breakfast, lunch, and dinner, they pour their heart into the community as well.
At the heart of our business is the belief in paying a living wage, supporting our community through fundraising, donating meals to those in need, and amplifying the voices of the marginalized.
The menu includes fresh salads, portobello fajitas, tofu tacos and other vegan-inspired dishes. Bring your pups as they are more than welcome to hang out at the outdoor tables.
Where to take your dog off-leash in Austin?
Stay tuned to next month's feature on the "Best off-leash' parks in Austin!